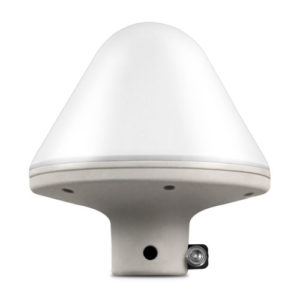 IEEE 1588 Integrated GNSS Grandmaster for Outdoor Installations
Building materials, low GNSS signal strength or other constraints sometimes interfere with indoor small cell synchronization using GNSS PTP grandmaster timing systems. Solving this challenge is Microsemi's outdoor integrated grandmaster, the IGM-1100o. Like the indoor version, this compact IGM grandmaster delivers precise time indoors to serve indoor small cells. However, IGM-1100o is ruggedized to support a wider temperature range, so that it can be installed on a building rooftop, instead of an interior wall or ceiling.
This integrated grandmaster can also be used in environments such as outdoor cabinets and huts where temperature range constraints and environmental ruggedness are key requirements. As a result, Microsemi's outdoor grandmaster can serve eNodeBs from the very edge of the mobile network with very few hops to the node.
Being installed outdoors where GNSS reception is optimal, Microsemi's outdoor IGM does not need assisted GNSS. In urban canyons or other settings where GPS reception is problematic, however, the IGM-1100o can leverage assisted GNSS. Use of Power over Ethernet (PoE) further simplifies installation of the outdoor IGM. Once installed on the roof and network-connected with PoE, Microsemi's integrated grandmaster automatically self-configures via TR-069, locks on to GNSS signals and begins PTP grandmaster operations, precluding the need for on-premise user configuration.
Using the same software across the IGM grandmaster family, mobile operators can facilitate densification with enhanced management options, more reliability through GPS backup, greater scalability with IPv6 and increased client support.
Integrated GNSS Grandmaster (IGM 1100o) Features