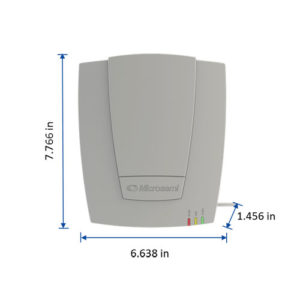 IGM for External GPS Antenna
IEEE 1588 Integrated Grandmaster with GPS Antenna (IGM-1100x) v2
In certain scenarios, there may be a pre-existing GNSS antenna in a location where the GNSS cabling would be short enough to be inexpensive and easily installed. In such a situation, the most cost-effective solution is to deliver precise time and phase with a low cost IEEE 1588 PTP grandmaster connected to the external GPS antenna.
Microsemi's small form factor IEEE 1588 IGM grandmaster, IGM-1100x, with integrated GNSS receiver and external antenna delivers precise time in scenarios where a GNSS antenna is already deployed, or where it would be cost-effective to deploy, such as a small one-story building, rack, hut or a cabinet. A single Ethernet connection is used for auto-configuration management, with Power over Ethernet used for IGM and PTP grandmaster operations to precisely synchronize eNodeBs. The plug-and-play operation, leveraging DHCP and TR-069 communication to the Auto Configuration Server (ACS), is meant for quick and easy installation similar to installing a typical indoor Wi-Fi antenna hot spot.
IGM-1100x provides a cost-effective alternative to existing 1588 grandmasters which typically present space, power and cost consideration hurdles.
Microsemi offers a unified software across the IGM grandmaster portfolio, facilitating densification for mobile operators through enhanced management options, more reliability through GPS backup, greater scalability with IPv6 and increased client support.
Integrated GNSS Grandmaster (IGM 1100x) Features