Operations and Maintenance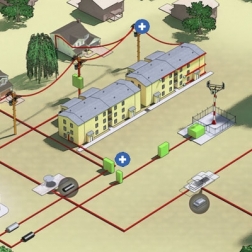 We are doing very well in O&M Management because of our effective involvement / major investments in 5 major element. These elements, Operations, Maintenance, Engineering, Training, and Administration, makes us different in Operation & Maintenance business.
We believe that operation and maintenance is essentially a time-based or equipment-based function, which we have categorized based on when it is performed. We have categorized entire O&M management in following four major practices.
Past and current maintenance practices in both the private and Government sectors would imply that maintenance is the actions associated with equipment repair after it is broken. Maintenance should be actions taken to prevent a device or component from failing or to repair normal equipment degradation experienced with the operation of the device to keep it in proper working order. But what makes us different from others? The additional steps that we take to strengthen our O&M practices,
We have incorporated Predictive Maintenance in our operations and management schedule, which is basically a Schedule maintenance activities when mechanical or operational conditions warrant and we repair or replace damaged equipment before obvious problems occur.
These additional maintenance practices were actually possible due to our fully equipped Repairing and Calibration Centre, which is a state of the art lab in India and which support us to enable Reliable Centered Maintenance also. We also utilize our Repairing and Calibration center under Reliable Centered Maintenance to enable the predictive/preventive maintenance techniques with root cause failure analysis to detect and pinpoint the precise problems, combined with advanced solution and repair techniques, including potential equipment redesign or modification to avoid or eliminate problems from occurring.