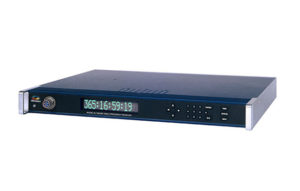 Powerful, accurate and versatile SAASM-based GPS time and frequency receiver
Compliant with Joint Chiefs of Staff SAASM GPS mandate and developed for authorized military users only, Microsemi's XLi SAASM GB-GRAM Time and Frequency Receiver is the world"s most powerful, accurate and versatile Selective Availability Anti-Spoofing Module (SAASM) based GPS time and frequency receiver.
The XLi SAASM's GB-GRAM receiver is a lightweight, third-generation GPS PPS, 12-channel receiver. The internal Ground-Based GPS Receiver Application Module (GB-GRAM) complies with the U.S. Government's GB-GRAM program that fulfills a GPS Directorate initiative to migrate to a defined, open system architecture for ground-based embedded military applications.
Secures Military Communications
The XLi SAASM is designed to generate precision time and frequency signals to synchronize high bandwidth mission critical communications systems that require the highest security support. The XLi SAASM is a Precise Positioning Service (PPS) GPS instrument that authenticates satellite signals (when keyed) with anti-spoofing (A-S) technology.
With the dual frequency XLi SAASM, the P(Y) code is received on both the L1 and L2 bands. The XLi SAASM supports encrypted and unclassified (controlled) Black Keys which can be distributed and loaded electronically. Decryption of the Black Key takes place within the SAASM module. Classified Red keys are also supported.
XLi SAASM provides the highest immunity to jamming plus multiple hardware and software options that enable military users to tailor their systems to support nearly every possible output/input needed for time and frequency applications. For example, the N.1 Frequency Synthesizer is a powerful option module that generates pulse rates from 1 to 50 MPPS to drive communication link encryptors.
The XLi SAASM configuration recognition software automatically detects the unit"s setup at power-on providing "plug-and-play" configuration capability for current and future application needs. Many of the XLi SAASM's hardware and software options can be easily upgraded in the field.
Designed for mission critical applications
Easily deployed to generate ultra high precision time and frequency outputs for C4ISR mission critical applications, the XLi SAASM offers a network centric interface with a web page management interface, telnet, and SNMP as standard features with an optional NTP server available. Other standard features and function include: 1 PPS (Pulse Per Second) output; time code In/Out for AM or DC IRIG A, B or NASA 36; programmable rates; alarm open collector; a keypad; RS-232/422 port. Options also available are Time Interval/Event Timing (TI/ET) and Frequency Measurement option.
In compliance with Joint Chiefs of Staff SAASM mandate
Taking into account the Joint Chiefs of Staff mandate that all newly fielded DoD systems using GPS shall use SAASM PPS devices (unless waivered), the XLi SAASM meets present military GPS requirements.
The XLi SAASM provides a port that supports a hot start via a DAGR, PLGR or other PPS device to facilitate direct acquisition of the P(Y) code within hostile environments where the C/A code is unavailable.